A draw. A dead heat. 15-15. And the series too, after the epic twists and turns of the last three weeks, is therefore a tie: one win for New Zealand, one win for the Lions, and Saturday's stalemate.
In Auckland's waterfront fan zone, where thousands of supporters of both sides watched the epic showdown on more than a dozen giant screens, people turned to each other, shaking their heads, laughing at the tension they felt mere moments ago, when it seemed life – or death – was on the line.
As the rain intensified, the streets began to ripple with people, and emotions appeared to flatline into a quiet, relieved sense of calm. There were handshakes, hugs and kisses exchanged in a happy orgy of mutual congratulation – it had turned out to be a good night for everyone.
"It is the best result for everbody, New Zealanders are the nicest people, they keep patting me on the back and saying 'well done'," said Julie Kingscott, a Lions supporter who travelled for 17 hours from Bahrain to watch the game. "It's just a lovely feeling now, it seems to be bringing everyone together."
Roads, usually four lanes deep in cars, had been handed over to the people and they seized the opportunity to dance down Queen Street. The shouts and bravado of the match subsided; everyone was a winner, everyone was a loser and everyone felt in the mood to celebrate.
Earlier in the evening, the tension had been close to unbearable. Under the southern cross, the sky turned from blue to pink to black as one couple had prepared for the deciding match from different corners of their suburban Auckland home.
Wrapped in a red scarf and wearing vivid red lipstick, an English immigrant, Mel Crosbie, was texting her friends in the UK, half wishing she was with them. Her husband Brian, a New Zealander, pulled on a black jersey and helped his two daughters into their black leggings, black T-shirts and black sports caps.
When it came to New Zealand's national sport, they had chosen to side with their father. "If the Lions win, Mum and Dad are having a divorce," said Sophia Crosbie with a cheeky smile, sprawled on the sponge floor of the fan zone.
"Losing," flashed the pre-game screen in shouty bold. "The ultimate motivator."
All around New Zealand the nation froze as one for 80 minutes. There was reverential silence, as the All Blacks bent into the Haka. There was an uncomfortable murmur, when the Lions briefly pulled ahead. There were hot mince and cheese pies with cold beer at half-time.
It was a sublime distraction from the unrelenting grimness of recent world events. A night when it was acceptable to scream your lungs out and pound your fists in the air. A night with a game that has rules, but remains utterly unpredictable.
"Sport's not scripted," said Brian Crosbie. "That's why we call it sport and not a soap opera, you never know what's going to happen."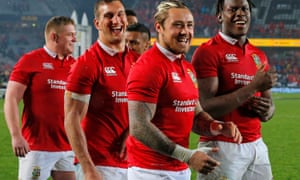 Briefly, unusually, the only screen people looked at was the large one they were sharing; phones were put to one side as locals and tourists, foes and friends shared the experience of the game. And not just any game. The game. A historic decider.
Eddy Naidu, 28, was tossed on to the muddy rugby field of Waiuku, a town just south of Auckland, when he was five years old. Last night he watched the game at his tennis club – the Remuera Racquets. The crowd were all tennis players, and not totally au fait with the rules, so Naidu patiently explained the significance of an off-side call.
"I grew up in small-town New Zealand, and rugby is kind of our livelihood, our life," said Naidu, standing in the pouring rain post-match, queuing for a pint of Guinness and a pint of Speights which he intended to drink at the same time. "It's what you get up for every Saturday morning at 7am … it becomes like breathing."
In the fan zone, the floor began to vibrate with tension, and the Crosbies squabbled for possession of the large horn they had brought. "Being English you are used to losing everything, so you are prepared for it," said Mel. "It's just a game, but the rivalry is fun. It's sort of play."
Maybe, but as the 80-minute mark ticked closer, with nothing between the teams, it didn't look like spectating was much fun. Mel honked her horn over and over and buried her face in her scarf, unable to watch the screen. Brian piroutted in his seat, his face constantly changing with emotion.
Then peace broke out. Mel and Brian reckon they can stay married now, "survive another day". They won't join the hordes hitting the bars, where suddenly everyone has something in common – where the playing field has been declared even – for tonight at least. Armistice.
"I am ecstatic with a draw," says Brian, suddenly tired, suddenly ready for bed, his voice close to gone.
"I didn't know I wanted this, I didn't think of it, but this has been just – boom."