In 2008, the year sports betting promotion really kicked off in Australia, Mario Bird's beloved Hawthorn won the Australian Football League grand final. Bird should have been elated. But he'd lost a $1,000 bet on the margin of victory that would have snaffled him $12,000.
"The win wasn't the most important thing for me. I missed the margin. It really took the gloss off for me and I couldn't celebrate, even though I was a lifelong fan."
Bird was in the throes of a sports gambling addiction he says cost him more than $350,000, and nearly his marriage and his business. He literally "spewed up and cried like a baby" when he went cold turkey five years ago. He felt like he was losing his best mate.
A decade into the gambling industry's courtship of codes like AFL and the National Rugby League, sports and online betting are a marriage worth $1bn a year and rising. A bevy of global and homegrown bookmakers, 15 of them registered in the low-tax Northern Territory, vie for a slice.
Bird, 38, recognises his former self in a lot of young men who make up today's AFL barrackers, and says his old rituals have become part of a common fan culture, almost to the point where it can be "pretty boring for young fellas" if they can't bet on the game.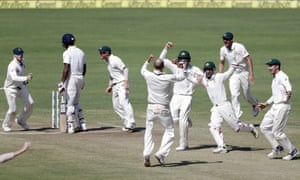 "If you've got first goal scorer or whoever's kicked the most goals, or the margin, how much better is it than just watching it for the game?" he says.
"The young fellas are getting sucked in because there's free bets offered, $50 bet, $100 bet, if you sign up. They're making it part of the game: have a beer at the pub with your mates, win big, and that's how good life is."
Bird says he never paid any attention to betting advertising. Gamblers don't need reminders to bet.
"They're targeting the non-betters, definitely and the young blokes. I believe some people just won't bet. Losing $5 horrifies them.
"But if it's in ya, it's in ya. Some people will never find it and they won't know that it's in them. But this is wrenching it out of you."
This, in an age where bank accounts and credit card bets are a smartphone swipe away and "the whole wage can go without blinking an eye".
Tim Costello, of the Alliance for Gambling Reform, says this cultural shift is the result of "a fight for the spoils of a rapidly growing industry with saturation marketing and turning footballers and cricketers into racehorses".
"We only ever had gambling on racehorses, never kids' heroes, and that's what they've done to us."
A backlash against sports betting promotion gathered force in 2012 when bookies, such as Tom Waterhouse and live odds were banished from TV football commentary.
Then minister for communications, Stephen Conroy, vowed there would be a big reduction in gambling advertising on TV.
The latest government intervention, confirmed last week by the present communications minister, Mitch Fifield, is a "siren to siren" ban on gambling ads during live sports broadcasts, except after 8.30pm.
The ban won't be put through parliament for legislation as first mooted, but left to "self-regulation" through TV networks' code of practice, with enforcement by the Australian Communications and Media Authority if necessary.
The online bookies' lobby, Responsible Wagering Australia, acknowledges "public concern about the level of gambling advertising, particularly the volume of gambling advertising that is viewed by minors".
An RWA spokeswoman says its advocacy has been for "reduction in the volume of wagering advertising".
"We believe the government's announcement adopts a sensible response to these community concerns," she says.
Costello and the Alliance say it's a watered down ban that leaves a loophole allowing betting ads in G-rated time slots during current affairs and sports programs like The Footy Show.
Samantha Thomas, an associate professor of health at Deakin University, agrees, and says it's "ridiculous" to think children, especially teenagers, will stop watching their favourite teams on TV when the game runs past 8.30pm.
And "no one is worried" about the spectre of ACMA if a network steps out of line, Costello says.
The Nine Network broke its code last September by showing ads inviting viewers of a kids film, The Spiderwick Chronicles, to bet on the first goal scorer and winning team in the AFL grand final. ACMA took no action, citing it as a first offence.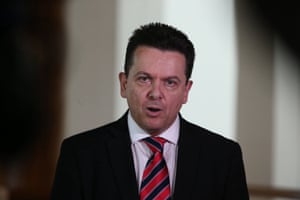 When the government's plan on gambling advertising was flagged but not yet confirmed, the senator, Nick Xenophon told Guardian Australia it would amount to "going from being a rottweiler to a toothless chihuahua".
Xenophon, a key source of pressure on the government for gambling reform, was reluctant to weigh in ahead of Fifield confirming the plan.
But he said: "The government might be pleasantly surprised and find it has a lot of parliamentary support for [a stronger gambling ad ban]. It's a fight worth having given community concern over sports betting."
Costello says the new limited ban represents a "huge win" for sporting codes like the AFL, the TV networks – and for the online gambling lobby, and its executive director, the former communications minister, Conroy.
"It's really allowing them in many ways to do business as usual," Costello says. "What's surprising to me is the government thinks by a cosmetic thing, parents and the public won't see through it."
Costello is critical of Conroy and RWA chairman, the former federal Coalition senator Richard Colbeck, for being "out there, walking the corridors of power for the AFL and their sports betting companies".
Costello says the RWA's "first duty" on its formation last November was to commission research into problem gambling.
But Colbeck told him a fortnight ago it was yet to do so and it was "difficult because researchers want to be arms length".
"They haven't even got a board," Costello says. "They've got their snouts in the public trough still with parliamentary pensions, huge jobs where we don't know what they earn and they torpedo what should be protecting kids."
Guardian Australia asked RWA if Conroy accepted there was a public perception of a "revolving door" at play given his former ministerial post.
The RWA spokeswoman said Conroy had "fully complied with all relevant requirements", including ministerial ethics standards requiring "an 18 month separation between duties as a minister and private sector advocacy in a related field".
Conroy had not held a ministerial portfolio since July 2013, "more than double the period of separation required", she said.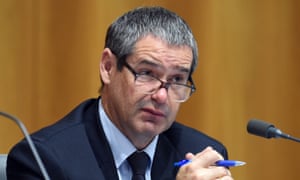 Guardian Australia also asked if RWA's lack of a board or commissioned research showed its priority had been to lobby for a favourable outcome for online bookies over the advertising ban.
The spokeswoman said the RWA "since its inception has been leading the debate in a range of policy areas, including advertising, taxation, as well as consumer protection and harm minimisation".
It had moved into permanent offices this week, and was "in the process of recruiting additional board members with a focus on candidates with regulatory and academic backgrounds".
"We are also developing a research program in line with the commitments set out in our industry-leading code of conduct."
Thomas says her research over several years has shown where sports betting advertisements are having a deep impact: a generation of children who have never known football without betting advertising.
Children struck by the humour and celebrity power of gambling ads show "phenomenal" brand recall of bookies, "a traditional tactic in building brand loyalty at a young age", she says.
They know how to place a bet, and promotions like cashback offers and bonus bets "create a perception for kids that gambling may not be a very risky activity", Thomas says.
"What the marketing has been very effective in doing is embedding this as part of your [future] fan behaviours."
Costello says: "Most Australian parents have a psychic vomit every time they see sports betting ads on TV and their kids are watching."
The argument that sport and networks will suffer a mortal body blow if betting advertising is taken away was once mounted for tobacco, Costello says.
"And we took away tobacco advertising and the sky didn't fall in."