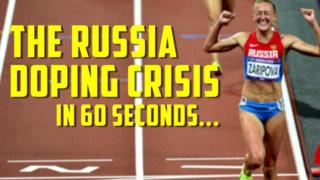 UK Athletics has suggested world records should be reset to help achieve a "new era" of clean competition.
The sport's governing body has made several proposals, including longer bans for drug cheats and a public register of tested athletes.
It follows a number of doping and cover-up allegations.
UKA chairman Ed Warner said it was time for "radical reform", adding: "The integrity of athletics was challenged as never before in 2015."
World athletics has been dogged by a string of damaging stories and revelations in recent months.
Global powerhouse Russia was barred from international competition for alleged "state-sponsored doping".
Lamine Diack, the former boss of world governing body the IAAF, was placed under criminal investigation over allegations he took payments for deferring sanctions against Russian drugs cheats. He denies wrongdoing.
And three IAAF figures – including Diack's son, Papa Massata Diack – were given lifetime bans after a report claimed they "conspired" to blackmail a Russian athlete in order to cover up her doping violations.
New IAAF president Lord Coe has pledged to double the anti-doping budget, establish a separate integrity unit for athletics before Rio 2016, and double the international testing pool of athletes to 1,000.
What else does UKA suggest?
Warner says trust in the sport is at its "lowest point for decades", adding clean athletes and fans "have been let down".
"Greater transparency, tougher sanctions, longer bans – and even resetting the clock on world records for a new era – we should be open to do whatever it takes to restore credibility in the sport," he said.
Some of the key recommendations:
World Anti Doping Agency (Wada) should maintain a public global register of all drugs tests
If not, UK Anti-Doping (Ukad) and UK sport should take the lead by forming a British register
The idea of a register of missed tests should also be investigated
Change the three strikes system so that missing three tests over a longer period of time – currently 18 months – can lead to a ban
Clean athletes to be compensated for loss of prize money by federations when drug cheats are banned and results annulled
The IAAF should look into drawing a line under all pre-existing world records and starting again
Minimum of eight-year bans for drug cheats so they miss two Olympic or Paralympic cycles, plus life-time bans where appropriate
Criminalise supply or procurement of performance-enhancing drugs
Re-name all anti-doping agencies under one umbrella. For example, Ukad would become Clean Sport UK
A big week for athletics
On Monday, UKA will publish the recommendations of its review into the Oregon Project run by Mo Farah's coach Alberto Salazar.
The review was commissioned following allegations by BBC's Panorama that the coach had violated anti-doping rules.
UKA has already found that there is "no evidence of any impropriety" from Farah, Britain's multiple Olympic gold medallist, and no reason to "lack confidence" in his elite training programme.
There is also no suggestion Farah, 32, has been involved in doping.
On Thursday, part two of a damning Wada independent panel report into doping in athletics will be published.
Delayed to allow criminal investigations to progress, it is expected to focus on German TV documentary claims that the IAAF was complicit in covering up systematic doping and extortion in Russian athletics.
Analysis – Sports editor Dan Roan
"This is a radical set of proposals by UKA, which is desperate to see progress on anti-doping amid the worst crisis the sport has known.
"It believes the IAAF, run by Lord Coe, is too preoccupied with salvaging its own credibility after recent corruption allegations.
"With time running out to restore public trust before the 2017 World Championships in London, it has taken it upon itself to lead a debate.
"Greater investment, tougher sanctions and more transparency will be welcomed by many in the sport.
"However, Ukad was surprised that it was not consulted on the manifesto and only found out about it on Saturday.
"It may also decide to raise concerns over the lengthening of bans given it feels the current four-year sanction is proportionate.
"The idea of a 'clean era' of world records is likely to be controversial, too."