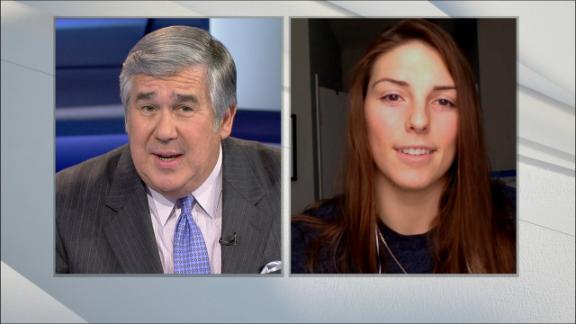 The members of the United States women's national hockey team have declined to respond to USA Hockey's 5 p.m. ET Thursday deadline to individually inform their national federation whether they intend to sit out the upcoming IIHF World Championships in Plymouth, Michigan. 
The 23-member team first announced Wednesday that it intended to boycott the March 31-April 7 event due to a stalemate in contract talks that began 14 months ago.
"We were aware of USA Hockey's deadline and have allowed it to pass," the team said in a statement. "We are focused on the issue of equitable support and stand by our position. We continue to be grateful for the encouragement and loyalty of our fans."
USA Hockey said its goal of fielding a team for the world championships remained a top priority.
"The organization's clear objective is to continue to work toward ensuring the players that have been selected for the team are those that represent the United States in the world championship," USA Hockey spokesman Dave Fischer said, according to The Associated Press.
The U.S. women's soccer team also had a recent dispute over fair wages with its national governing body, eventually filing a successful complaint with the Equal Employment Opportunity Commission. However, John B. Langel, legal counsel for the players, said that is something his players are not considering yet. 
"We're still hopeful we'll have meaningful discussions [with the federation] and reach a resolution," Langel said. "The players' goal right now is to report for training (next week) and play in these world championships. Filing litigation will not get that result. If we're not successful, then we'll consider our options. But the players picked the 15th [of March] in order to give USA Hockey time to have serious discussions with the players. That's their hope. We told that to USA Hockey. And it's up to USA Hockey if they want to do that."
Earlier Thursday, Fischer disputed the players' contention, made in a news release, that USA Hockey is attempting to field an alternative team to play in World Championship games.
Asked if the federation has already begun contacting other players on the U.S. Under-18 and Under-22 girls' and women's teams about playing in the world championships as replacement players, Fischer said, "That is absolutely not true."
U.S. national team co-captain Monique Lamoureux-Morando said in a phone interview after Thursday's deadline had passed that captain Meghan Duggan had personally called the remaining 90-plus college, amateur and pro players in the national-team pool earlier in the day and held one-on-one conversations with each, as well as many of their parents and coaches.
Duggan offered to answer any questions they might have about the boycott, and asked them to honor the senior women's team's refusal to play in the world championships unless USA Hockey's stance toward contract negotiations with them changes.
Lamoureux-Morando said of the national team's expectation, based on those player conversations: "I would be surprised if USA Hockey will be able to field a replacement team, as the federation pretty much implied yesterday that they would try to do. I don't think they'll be able to get the players."
Asked if the national team reps had to address fears among the other players — particularly the younger ones — that they might be blackballed by USA Hockey going forward if they joined the senior national team's boycott, Lamoureux-Morando said, "There were some people with questions. We told them we believe as long as everyone sticks together, everyone's going to be fine. They [USA Hockey] are not going to be able to go out and find another 90 players to make up a new pool. We firmly believe that. We also helped them understand that a lot of why we are doing this is for the next generations.
"There have been multiple times today when I've been moved to tears by all the support and feedback we've gotten."
The two sides are at a stalemate in contract talks that began 14 months ago. They have a deep divide over whether the girls' and women's programs are treated equitably compared even to the boys' developmental teams. (The men's U.S. national team for Olympic competitions is typically made up of NHL players, making comparisons with the women's senior national team's treatment difficult.)
The federation and players also disagree on issues as fundamental as the actual amount of aid the players receive — the federation insists the figure is higher than the players reported — to whether it matters if the compensation and aid comes from the federation or U.S. Olympic Committee.
Fischer said the federation has been clear with the players that it is "not in business of paying athletes" and will not cede to their wishes to be what he called "full-time employees" — wording he used not as a legal term of art, but only in the sense that the women are asking for higher pay for the entire four-year cycle leading up to each Olympics.
"We don't have full-time employees as athletes and we are not going to — it's not going to be the way forward," Fischer said. "The thing is, they know that. We have been clear with them."