The eye test is enough.
Byron Buxton is fast.
Whether he's running full-tilt through center field or coaxing a throwing error out of a scrambling infield, Twins fans have long pegged Buxton as one of the speediest players in the big leagues.
Thanks to MLB's Statcast, they now have proof.
Statcast introduced Sprint Speed back in April, a metric described by MLB.com in the following terms: "How many feet per second did a player run in his fastest one-second window?"
The original rollout of Sprint Speed only tracked outfielders, and then only on defense.
As of the system's latest update, we now have a more complete picture of Buxton's speed relative to the rest of the league.
Statcast tracked Buxton at 29.9 feet-per-second on the base paths, making him the second-fastest baserunner on record this season.
For a slightly more striking visual, check out the graph below.
There's Buxton, the second pink dot from the right.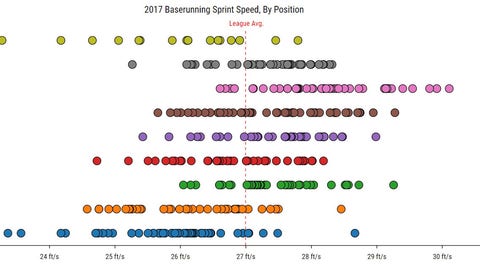 In terms of raw numbers — first base is 90 feet away from home plate — Buxton could theoretically make it there in 3.01 seconds, a figure that, even if he isn't starting at the dead sprint measured by Statcast, is enough to make plenty of pitchers think twice before trying to gun him out on a bunt.
A few other observations:
— Robbie Grossman is the second-fastest designated hitter in the league at 27.5 ft/s.
— Max Kepler is the fifth-fastest right fielder at 28.1 ft/s.
— Eduardo Escobar is the second-fastest third baseman at 28 ft/s.
— Miguel Sano is not, and maxed out at 26.8 ft/s, or just below average for an MLB third baseman. He is also at least two inches and 50-70 lbs larger than anyone else we've mentioned so far.